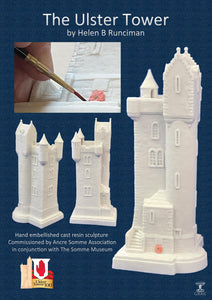 Ulster Tower 100 Limited Edition Sculpture
By Helen Runciman
The Ulster Memorial Tower was the first official memorial to be erected on the Western Front. On Saturday 19th November 1921 the completed Ulster Memorial Tower was opened by Field Marshal Sir Henry Wilson, Chief of the Imperial General Staff and Ulster's most famous soldier.

To mark the 100th Anniversary of the Ulster Tower we are pleased to announce that, in conjunction with the Somme Museum, the renowned Scottish artist, Helen Runciman, has been commissioned to produce a Limited Edition sculpture of the Ulster Tower.

Helen is a full-time professional artist based in Denny, Stirlingshire, Scotland.  Her work ranges from small delicate watercolours to large mysterious oil paintings. Her subject matter is varied and, although now working mainly figuratively, her work encompasses landscapes, seascapes and street scenes.

Helen is well known to our charity as she was commissioned to produce a bronze bust of Rifleman William McFadzean VC in 2017. Then in 2020 she was commissioned to produce a bronze bust of Sir James Craig, Lord Craigavon.

The Limited Edition hand embellished cast resin sculptures are approximately 8 inches tall. Each sculpture is individually numbered and is accompanied with a certificate of authenticity signed by the artist.
The sculptures are priced at £135.00 each.

UK Shipping £14.95 (please contact us for overseas rates).

Shipping NOW!!!

©ASA 2022