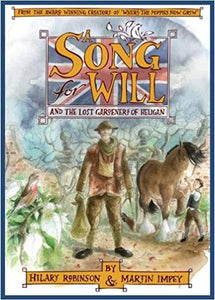 A Song For Will' – The Lost Gardeners of Heligan – set just before, during and after World War 1 is the latest book for children and young adults from Hilary Robinson and Martin Impey.
The book, a work of fiction based on fact, has been published in partnership with The Lost Gardens of Heligan and is a stunning, highly illustrated story about the gardeners and outdoor staff of the estate who enlisted following the outbreak of World War 1. The story, which has drawn on Heligan archive and military detail of the time, includes many Cornish landmarks and places of interest at Heligan and has been described as a "deeply moving tribute."
A Song For Will – The Lost Gardeners of Heligan – is published by Strauss House Productions.
Author: Hilary Robinson
Illustrator: Martin Impey
©ASA 2022