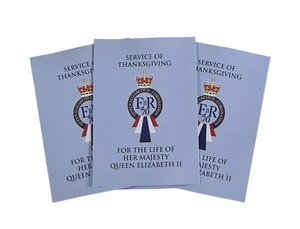 Service of Thanksgiving for the life of Queen Elizabeth II Order of Service
On Sunday 10th September 2023 the Ancre Somme Association Charity hosted a Service of Thanksgiving. Giving thanks for the life of Queen Elizabeth II.


The service, held in St Marks Church, Portadown, was attended by various dignitaries including the Vice Lord Lieutenant of County Armagh, Mr Richard Hamilton-Stubber DL, Lord Mayor of Armagh City, Banbridge and Craigavon Borough Council, Alderman Margaret Tinsley, various MP's, MLA's and Councillors
from across Northern Ireland as well as representatives from various community groups and organisations.
The service was conducted by the Reverend William Orr. Throughout the service there were various speakers. These included ASA Patron Lt Col Ant Maher, ASA Ambassadors Andy Allen MBE MLA, Carla Lockhart MP, Graham Dodds MBE DL, ASA Honorary President David Martin and Lord Mayor Alderman Margaret Tinsley.


Those in attendance also enjoyed three songs performed by the Northern Ireland Military Wives. A passionate tribute was also paid to Queen Elizabeth II by the Reverend Cannon Derek Kerr.


ASA Chairman, Mark Jameson, said," Our members felt it was important to give thanks for the life of Queen Elizabeth II. Her 70 years of service was a remarkable achievement. I believe today's service was a fitting tribute to our late monarch."


During the service a collection was given in aid of the Northern Ireland Purple Poppy Memorial Fund. This fund was established earlier this year by the ASA Charity. The aim of the fund is to create a memorial in Northern Ireland in memory of all the animals who served. Further information regarding the fund is available from the charities website
www.asauk.org


The Ancre Somme Association would like to take this opportunity to thank everyone who supported and made this service possible. A special thanks goes to the Reverend William Orr and St Marks Church.