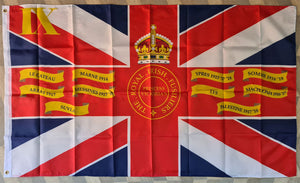 9th BATTALION PRINCESS VICTORIA'S ROYAL IRISH FUSILIERS KINGS COLOURS

On the outbreak of war in 1914 the Ulster Volunteer Force provided the basis for the recruitment of 36th (Ulster) Division.

The 9th (Service) Battalion, Princess Victoria's (Royal Irish Fusiliers) (County Armagh) was one of thirteen infantry battalions raised for 36th (Ulster) Division. It was made up largely of men of the Ulster Volunteer Force.

The battalion was involved in an attack on the town of Hamel on the first day of the battle of Somme, and later at Messines in 1917 and the third battle of Ypres before taking part in the final offensive in late 1918.

During the First World War, the Royal Irish Fusiliers won 44 battle honours, with 2 Victoria Crosses being awarded; one to Private Robert Morrow and one to Lieutenant Geoffrey Cather. The battalions of the Faughs lost a total of 3,000 men killed and 15,000 were wounded.

The flag is 5 ft x 3 ft and made from high quality polyester. It contains 2 eyelets for hanging purposes. Brand new in packaging.
©ASA 2022