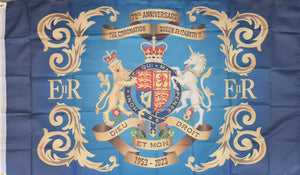 Queen Elizabeth II Coronation Commemorative Flag

1953 ~ 2023

The Coronation of Elizabeth II took place on 2nd June 1953 at Westminster Abbey in London.

Elizabeth II acceded to the throne at the age of 25 upon the death of her father,
George VI, on 6th February 1952, being proclaimed queen by her privy and executive councils shortly afterwards.

The coronation was held more than one year later because of the tradition of allowing an appropriate length of time to pass after a monarch dies before holding such festivals. It also gave the planning committees adequate time to make preparations for the ceremony.

During the service, Elizabeth took an oath, was anointed with holy oil, was invested with robes and regalia, and was crowned queen of the United Kingdom, Canada, Australia, New Zealand, South Africa, Pakistan, and Ceylon (now Sri Lanka).

The flag is 5 ft x 3 ft and made from high quality polyester.
Flag contains 2 eyelets for hanging purposes.
Brand new in packaging.
©ASA 2022