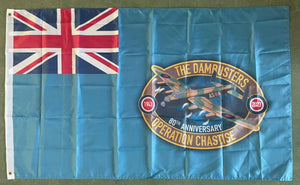 Operation Chastise Dambusters
80th Anniversary Commemorative Flag
1943 -2023

Operation Chastise was an attack on German dams carried out on the night of 16/17 May 1943 by 617 Squadron RAF Bomber Command, later called the Dambusters.
The Royal Air Force lost 53 servicemen during this attack while a futher
3 were held as prisoners.
The flag is 5 ft x 3 ft and made from high quality polyester.

It contains 2 eyelets for hanging purposes.
©ASA 2022