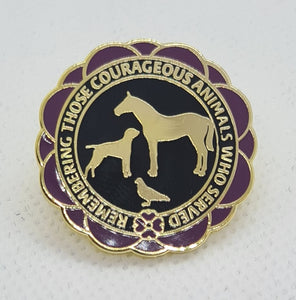 NI Purple Poppy Memorial Fund Badge
The purple poppy is a symbol of remembrance in the United Kingdom for animals that served during wartime. The symbol was created in 2006 based on the principle of the traditional red remembrance poppy for Remembrance Day.
The purple poppy was created in 2006 by the charity Animal Aid as a way to commemorate animals which served during conflicts as the charity viewed that they had been the forgotten victims of war.
Throughout history animals have accompanied men into combat as modes of transport and communication, protectors and companions. They have fulfilled a variety of roles – from carrying men and munitions to evacuating the wounded, performing guard and sentry duties to carrying out search and rescue operations, detecting gas in trenches to locating improvised explosive devices (IEDs) in Afghanistan.
During the First World War, pack animals like horses, donkeys and mules travelled over landscapes destroyed by heavy bombardments to deliver the war materiel needed at the front. Working individually or in teams, they would carry heavy guns and ammunition, as well as other vital supplies, especially where the use of motorised transport was impossible. This practice continued into the Second World War, when elephants were also used to carry weapons and ammunition in the Far East. Animals were not only used to carry weapons and supplies, but to transport men as well.
Pigeons and dogs, often able to navigate battlefields more quickly and easily than humans, were trained to carry messages. This task was especially important when technology failed or when other forms of communication were cut off. So vital were carrier pigeons that during the First World War anyone caught 'killing, wounding or molesting' a pigeon could be imprisoned or fined. War dogs attended a special training school to help them become accustomed to the sights and sounds of battle, helping them stay focused on their missions even in the midst of war.
There is a specified purple poppy day in addition to Remembrance Day on 11th November where purple poppies would be worn. The date is movable, however. In 2018, in order to coincide with 100 years since the end of the First World War, 23th August was chosen as purple poppy day to coincide with the Battle of Mons. This was the date of the first battle between British and German forces during the First World War.
With your support the Ancre Somme Association Charity plan to erect a bronze Purple Poppy Memorial in the grounds of Brownlow House. The memorial will consist of a bronze horse, dog and a pigeon mounted on a granite plinth.
All funds from this badge will go towards the Northern Ireland Purple Poppy Memorial Fund.

Pin Badge

25mm x 25mm
©ASA
2023