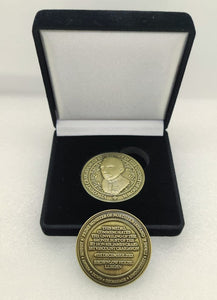 Limited Edition Lord Craigavon Memorial Unveiling Coin
This limited edition coin marks the unveiling of the bronze bust of Lord Craigavon.
The unveiling took place in Brownlow House on the 4th December 2021.
Colour: Bronze
Size: 35mm diameter

Design: Embossed on both sides. Front features the sculpture by artist Helen Runciman.

Box: Velvet gift box.
Other: Each coin is numbered 1-100
©ASA 2023