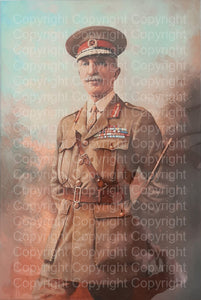 Limited Edition Field Marshal Sir Henry Wilson Signed Giclée Print
The Ancre Somme Association commissioned Helen Runciman to create a commemorative painting marking the 100th Anniversary of the assassination of Field Marshal Sir Henry Wilson, 1st Baronet, GCB, DSO
Field Marshal Sir Henry Hughes Wilson, 1st Baronet, GCB, DSO was one of the most senior British Army staff officers of the First World War and was briefly an Irish unionist politician.

After retiring from the army Wilson served briefly as a Member of Parliament, and also as security advisor to the Northern Ireland government. He was assassinated on his own doorstep by two IRA gunmen on the 22nd June 1922 whilst returning home from unveiling a war memorial at Liverpool Street station.
The painting was unveiled in Brownlow House, Lurgan, on the 22nd June 2022 by Lord Mayor of Armagh, Banbridge and Craigavon Borough Council.
We are publishing prints of the painting as a Limited edition of 22, A2 sized prints (420mm x 594mm) priced at £175.00 each.
Print number 22 was presented to the Ulster Memorial Tower in France on the 1st July 2023.
The prints are individually signed and numbered by the artist and come with a signed authenticity certificate.
*ONLY 22 PRINTS WILL BE PRODUCED