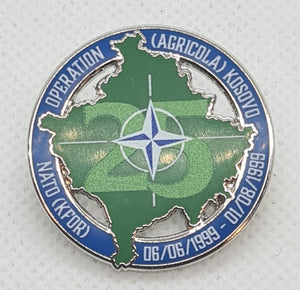 Kosovo Operation Agricola 25th Anniversary Pin Badge
06/06/1999 - 01/08/1999

On 6th June the 1 PARA group reinforced by 125 men from 3 PARA was deployed in Macedonia under 5 Airborne Brigade to spearhead a forced entry by the NATO KFOR Peacekeeping Force. The aim was to clear any pockets of hard-line resistance that might impede the negotiated Serb Army withdrawal.
At H-Hour on 9th June 1 PARA Battle Group secured the Kacanik Defile with an air-mobile helicopter insertion on the Serbian border with Macedonia, and later participated in the KFOR ground advance to the capital Pristina.

After the initial deployment the battalion was engaged in peace-keeping tasks in Pristina, protecting Serb civilians from Albanian reprisals, overseeing and negotiating with the Kosovo Liberation Army and recording evidence of Serb war crimes. With emotions running high because of inter communal violence it proved a Northern Ireland type experience conducted in circumstances similar to Aden in 1967.

On 30th July 1 PARA handed over the civil administration of Pristina to the 1st Royal Irish Battle Group and returned to the UK, having earned a DSO, QCB and a Mention in Despatches.
30mm x 30mm

©ASA
2023