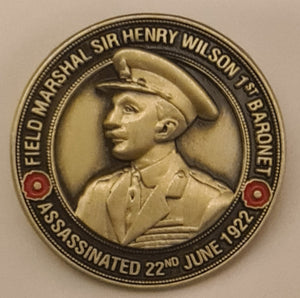 Field Marshal Sir Henry Wilson Commemorative Badge
Field Marshal Sir Henry Hughes Wilson, 1st Baronet, GCB, DSO (5 May 1864 – 22 June 1922) was one of the most senior British Army staff officers of the First World War and was briefly an Irish unionist politician.

Wilson served as Commandant of the Staff College, Camberley, and then as Director of Military Operations at the War Office, in which post he played a vital role in drawing up plans to deploy an Expeditionary Force to France in the event of war. During these years Wilson acquired a reputation as a political intriguer for his role in agitating for the introduction of conscription and in the Curragh incident of 1914, when he encouraged senior officers to resign rather than move against the Ulster Volunteers (UVF).

As Sub Chief of Staff to the British Expeditionary Force (BEF), Wilson was Sir John French's most important advisor during the 1914 campaign, but his poor relations with Haig and Robertson saw him sidelined from top decision-making in the middle years of the war. He played an important role in Anglo-French military relations in 1915 and – after his only experience of field command as a corps commander in 1916 – again as an ally of the controversial French General Robert Nivelle in early 1917. Later in 1917 he was informal military advisor to British Prime Minister David Lloyd George, and then British Permanent Military Representative at the Supreme War Council at Versailles.

In 1918 Wilson served as Chief of the Imperial General Staff (the professional head of the British Army). He continued to hold this position after the war, a time when the Army was being sharply reduced in size whilst attempting to contain industrial unrest in the UK and nationalist unrest in Mesopotamia, Iraq and Egypt. He also played an important role in the Irish War of Independence.

After retiring from the army Wilson served briefly as a Member of Parliament, and also as security advisor to the Northern Ireland government. He was assassinated on his own doorstep by two IRA gunmen in 1922 whilst returning home from unveiling a war memorial at Liverpool Street station.
Pin Badge

25mm x 25mm
Butterfly Clip

©ASA 2022