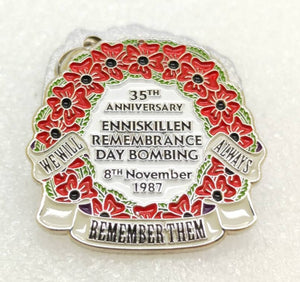 Enniskillen Remembrance Day Bombing 35th Anniversary Pin Badge
1987 - 2022
The Enniskillen Remembrance Day bombing took place on the 8th November 1987 in Enniskillen, County Fermanagh, Northern Ireland.
A Provisional Irish Republican Army (IRA) bomb exploded near the town's war memorial (cenotaph) during a Remembrance Sunday ceremony.
Twelve people were killed, many of them elderly, and 70 were injured.

This badge has been produced in memory of the following:

Wesley and Bertha Armstrong (aged 62 and 55)
Kit and Jessie Johnston (aged 71 and 62)
William and Agnes Mullan (aged 74 and 73)
John Megaw (67)
Alberta Quinton (72)
Marie Wilson (20)
Samuel Gault (49)
Edward Armstrong (52)
Ronnie Hill (68)



"We Will Always Remember Them"
35mm x 30mm

Butter Fly Clip

©ASA 2022