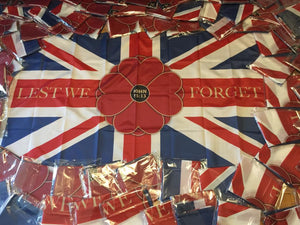 The Empire Poppy is an original design commissioned by the Ancre Somme Association in 2018.

The artwork was the idea of Association members who worked with Snowhite Design to design, what we believe to be, an image that relays perfectly our thoughts about those brave men and woman who fought, and continue to fight, for the freedoms we all take for granted today.

The bringing together of the hearts, that comprise the Empire Poppy, is our way of remembering all those who through various wars and confilcts, left these shores never to return. Leaving behind families who were left with only memories of those they had loved and lost.

As so many from the British Commonwealth sacrificed their lives for others we felt that it was fiiting to use the verse from John 15.13 "Greater love hath no man than this that a man lay down his life for his friends."

The flag is 5 ft x 3 ft and made from high quality polyester. It contains 2 eyelets for hanging purposes. Brand new in packaging.
©ASA
2022