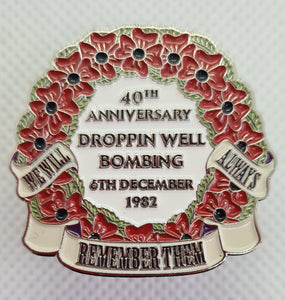 Droppin Well Bombing 40th Anniversary Pin Badge
1982 - 2022

The Droppin Well bombing occurred on the 6th December 1982, when the INLA terrorists exploded a time bomb at a disco in Ballykelly, County Londonderry.
The disco, known as the Droppin Well, was targeted because it was frequented by British Army soldiers from nearby Shackleton Barracks.
The bomb killed eleven soldiers and six civilians; 30 people were injured, this made it the most deadly attack during the INLA's paramilitary campaign and the most deadly attack during The Troubles carried out in County Londonderry.
Following the blast, it took a few hours to pull survivors from the rubble. The last survivor was freed at 04:00, but it was not until 10:30 that the last of the bodies was recovered.
Ultimately, 17 people died (11 soldiers, six civilians) and about 30 were injured, some seriously. Five of the civilians were young women and three (Alan Callaghan, Valerie McIntyre and Angela Maria Hoole) were teenagers. Angela Hoole was celebrating her engagement to one of the soldiers who survived the incident. Of the eleven soldiers who died, eight were from the 1st Battalion Cheshire Regiment, two from the Army Catering Corps and one from the Light Infantry.
One of those on the scene was Bob Stewart, then a company commander in the Cheshire Regiment. He lost six soldiers from his company and was deeply affected as he tended to the dead and injured.

This badge has been produced in memory of the following:

Pte Terrance Adam Army Catering Corps

L Cpl Steven Bagshaw Cheshire Regiment

Alan Callaghan

L Cpl Clinton Collins Cheshire Regiment

Patricia Cooke

Pte Paul Delaney Army Catering Corps

Ruth Dixon

Angela Hoole

L Cpl Philip McDonough Cheshire Regiment

Valerie McIntyre

Pte David Murray Cheshire Regiment

Cpl David Salthouse Light Infantry

Pte Steven Smith Cheshire Regiment

L Cpl David Stitt Cheshire Regiment

Carol Watts

Pte Neil Williams Cheshire Regiment

Pte Shaw Williamson Cheshire Regiment


"We Will Always Remember Them"
35mm x 30mm

Butter Fly Clip



©ASA

2023