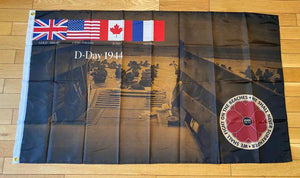 D Day Commemorative Flag
The D-Day Landings on the Normandy beaches took place on June 6, 1944.

58,815 British, 57,500 American soldiers, 21,400 Canadians, and 177 Frenchmen.
The flag is 5 ft x 3 ft and made from high quality polyester.

It contains 2 eyelets for hanging purposes.

Brand new in packaging.
©ASA 2022