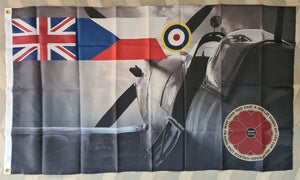 British/Polish Royal Air Force Flag

By the end of the war, the three Czech fighter squadrons, 310, 312 and 313, had completed 28,335 operational flights totalling 46,905 hours. Flying as a Czech Wing, the squadrons flew four two-hour sorties on D-Day, 6 June 1944, as part of the historic Operation Overlord.
The flag is 5 ft x 3 ft and made from high quality polyester.
It contains 2 eyelets for hanging purposes.
Brand new in packaging.
©ASA 2022