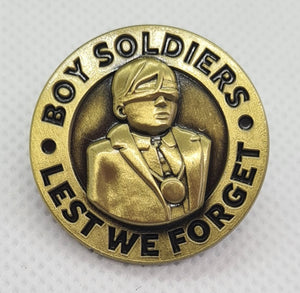 Boy Soldiers Enamel Pin Badge
Between 1914 and 1920, more than 3,000 British soldiers were sentenced to death by courts martial for desertion, cowardice, striking an officer, disobedience, falling asleep on duty or casting away arms. 306 of the sentences were carried out.
Many of those sentenced to death were just young boys.
In these modern times it is acknowledged that it was not cowardice but they were acually suffering from post-traumatic stress syndrome and combat stress reaction.
We Will Remember Them
25mm x 25mm
Butter Fly Clip
©ASA 2022