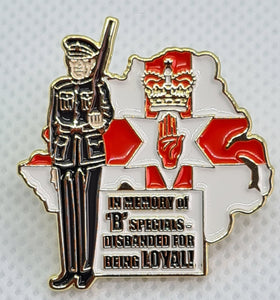 B Specials Enamel Pin Badge

The Ulster Special Constabulary, often known as the B Specials, was formed in 1920 as a reserve special constable police force.
It was called out in times of emergency such as during the Irish War of Independence in 1920-22 and during the IRA border campaign in the 1950s.
During its existence 95 members were killed in the line of duty.
The B Specials were disbanded in May 1970
28mm x 30mm

Butter Fly Clip

©ASA 2022