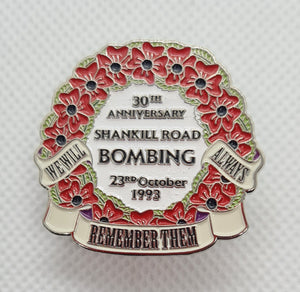 Shankill Road Bombing 30th Anniversary Pin Badge

1993 - 2023

The Shankill Road bombing was carried out by IRA terrorists in Belfast on the 23rd October 1993 and it is one of the most well-known incidents of the Troubles in Northern Ireland.
On that fateful day Two IRA members disguised as deliverymen entered Frizzell's fish shop, on the Shankill Road, carrying a bomb.
The Bomb detonated prematurely killing nine people, two of whom were children.
More than fifty people were wounded.

This badge has been produced in memory of the following:

John Frizzell (63)
Sharon McBride (29)
Leanne Murray (13)
Michael Morrison (27)
Evelyn Baird (27)
Michelle Baird (7)
George Williamson (63)
Gillian Williamson (49)
Wilma McKee (38)

"We Will Always Remember Them"

35mm x 30mm

Butter Fly Clip

©ASA 2022